kateforrest.com
Updated: 10 April, 2005
Hi, and welcome to kateforrest.com. That's me on the right at the ripe old age of nine and a half months. As you can see, I've changed a lot since I first introduced myself to you in my original posting (further down this page).

My hobbies have changed a bit too. I'm now into standing, stepping (but not yet walking), high speed crawling, squealing with hilarity, throwing food on the floor, keeping my parents wrapped firmly around my smallest digits, and generally being adorable.

As you've probably noticed, my Dad and I have been rather slack about updating my site regularly (as he freely admits, it's all his fault) but fortunately my influence has turned my Mum into an even snap-happier photographer than Dad used to be. Now that Mum and I have got Dad to set up another gallery for her, Mum has started updating her gallery at least weekly, so the best way to keep up to date with all my news is to keep checking out www.melinda.za.net.

---
Kate's Original Site
---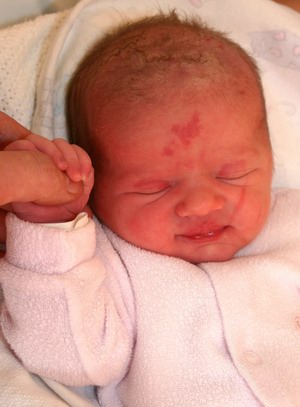 Hi, and welcome to kateforrest.com. That's me on the right at the ripe old age of four and a half hours. I'm sorry I didn't open my eyes for the photo, but dictating this message in Morse code squeezes on my Dad's thumb took all the concentration I could muster.

I was born at 07h52 today, Friday 18 June 2004 at the Kingsbury Hospital in Cape Town. I'm 50cm long, and weighed in at 3.14kg (that's 6 pounds, 15 ounces for people like my Grandmothers that haven't metricated). My Apgar score was 9 at one minute, but improved to a perfect 10 at five minutes.

My favourite hobbies at the moment are sleeping, dozing, closing my eyes, and generally avoiding my Dad's camera. Despite this, he's taken about 180 photos of me already (yes, I know, he's a pain!). Don't worry - he has done a little bit of picking & choosing amongst those, so you'll only find 120 pics of me in the gallery.

For the modelling scouts, and anyone else out there concerned about the marks on my face, relax: The "Stork Bite" on my forehead should disappear in a few months, and the forceps marks on my left cheek in a few days.

If Dad brings the Morse code thumb near me again then I'll keep you posted with updates on my exciting life so far, but for now this is all the news I have for you. If you'd like to write to me, then you can reach me at Email me at and one of my folks will read it to me.


Update: 20 June, 2004
Hello again! I'm a whole two and half days old now, and still a big fan of sleeping, but I thought I'd humour my Dad a bit on Father's Day by letting him catch me with my eyes open.

I've expanded my hobbies a bit to include regular drinking (just milk, thanks) and keeping the nappy manufacturers in business, but sleeping is still at the top of the list.

Dad's slowed down a bit with the camera (phew!) but there are still plenty of new pics to keep my fans happy. Check out the newest album in the gallery.